In attempt to create more hype & awareness of the server release, I am going to be giving away a Warrior rank to two lucky players on May 13th, @ 12:00 pm central time (1 hour before the release).
If you are interested in participating in this event, you must follow the directions below:
1. Join the discord chat @ https://discord.gg/wPAKGqu
2. Post your minecraft username & discord username below.
Doing the above will give you 3 tickets in the raffle!
If you would like to earn more tickets, you can earn +1 more ticket for every person you refer to the discord chat. However, they must be an actual minecraft player & stay in the chat, or else the ticket will be invalid.
When you do that, please message me that persons discord username on here or discord.
Hello everyone, whether you are a new or old player of projectxcraft, I am happy to see you join/view the forum! There are a few things you may be wondering about the server, and hopefully I will be able to answer most in this post.
As of now, I plan on opening the server on May 13th, at 1:00 pm Central Time. For those of you who are not aware, that is 2 pm Eastern time, and 11 am Pacific time. At the start, not all of the servers that prx ended with will come back, and I only plan on adding Factions & KitPvP back for now. The reason for this is because of the fact that creating a server is not cheap, and I do not want to add too many servers if there wont be enough people to occupy them all.
Common Questions:
Is Kevin still the owner?

Due to the fact that Kevin does not have the time to run the server, he sold me the the domains to the server, which I now am using (with his permission) to open the server back up!


Will I recieve my rank back from prx v1.0?

Sadly, you will not, as this is a complete revamp of the server, and I also have no way of accessing who had what.
If you would like to earn some prizes to get before release day, you can do so by referring minecraft players to the discord chat linked above! For every referral, you will receive x1 Elite crate on Factions, and $20 in game money on KitPvP! If someone you have referred joins the discord chat, please send me a private message on either here or discord so I can take note that you referred that person.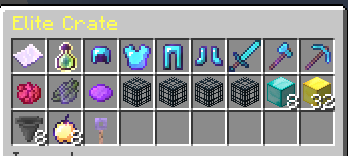 For more information about the server, either send me a private message, or join the server discord chat @
https://discord.gg/wPAKGqu
.